IB Still Life Drawing
(Recommended working time: Three Weeks)
In this assignment students will:
Plan and execute a still life drawing that exhibits an understanding
of casual and linear perspective.

Complete a drawing using traditional media that reflects personal
concerns or interests through the use of metaphor.

Research the still life genre across a century or more.
Investigation Workbooks: (9 pgs.)
Research the topic of still life and critically analyze the work of at
least two artists, a contemporary artist and an artist working more
than a century ago.

Use the in-class text books to research art criticism and then write about the artists' work through the use of a description, analysis, interpretation, and judgment or evaluation.

Research and evaluate the use of value and value keys to create and control the mood or feeling of a work.

Practice several thumbnail sketches of a still life to emphasize casual and linear perspective.
Studio Work: (1-2 large drawings: at least 18"X24")
Complete a still life using traditional drawing media that reflects an understanding of casual and linear perspective.

Your drawing should reflect your research into art history and the use of value to control mood or emotion.

Be prepared to discuss your use of visual metaphor to reflect your personal interests or concerns.
Assessment: Students will show their work for critique and submit their sketchbooks for evaluation.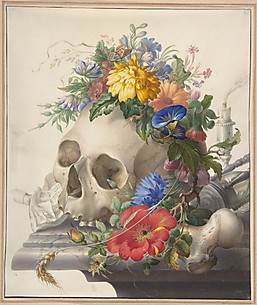 Vanitas Still Life,
Herman Henstenburgh
(Dutch, 1667–1726)