IB Photography
(Recommended working time: Three Weeks)
In this assignment students will:
Investigation Workbooks (IWB): (8 pgs.)
Research how to take engaging photographs. Specifically, research visual composition in photography. Look for terms such as "rule of thirds," "golden ratio," "depth of field," and how they may be used to emphasis a subject or dominant object in photography.
Research the work of at least two photographers in depth with special attention given to the use of subject, composition, and techniques specific to photography. The photographers must be separated by at least 50 yrs. and include photography that expresses at least 2 different cultural perspectives.
Critically analyze the individual work and explain the connections of specific photographs to other cultural and historical sources or artifacts.
Determine the specific cultural function of each artist's work and evaluate the significance of the work in each culture.
Remember to cite your sources

Studio Work: (5-10 5X7 Photographs)
Create a variety of photographs that exhibit a clear connection to your research. These photographs may reflect another photographers compositional techniques or subject matter but may not be copies.
Photographs must be printed in the 5X7 size to allow for matting and should be "glossy." All student work must be demonstrably original. IB is rigorous and plagiarism is severely dealt with in the program.
(NOTE: Practice photographing both 2 and 3 dimensional work.)

Select from your group of photographs 5-10 which most clearly express one idea or topic, reflect the strongest connection to the works of others without plagiarism, and demonstrate a strong understanding and technical skill with the new media.
Assessment: Students may show their work for critique and submit their sketchbooks for evaluation.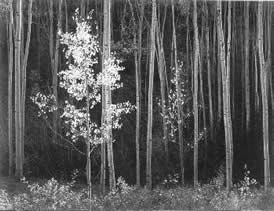 Aspens, New Mexico, 1958
Ansel Adams
American, 1902-1984
Gelatin silver print
Image: 10-1/8 x 13 in. (25.7 x 33 cm)
Norton Simon Museum, Gift of the Artist
PH.1969.75
© 2008 Ansel Adams Publishing Rights Trust