IB Studio Project
(Recommended working time: Four Weeks)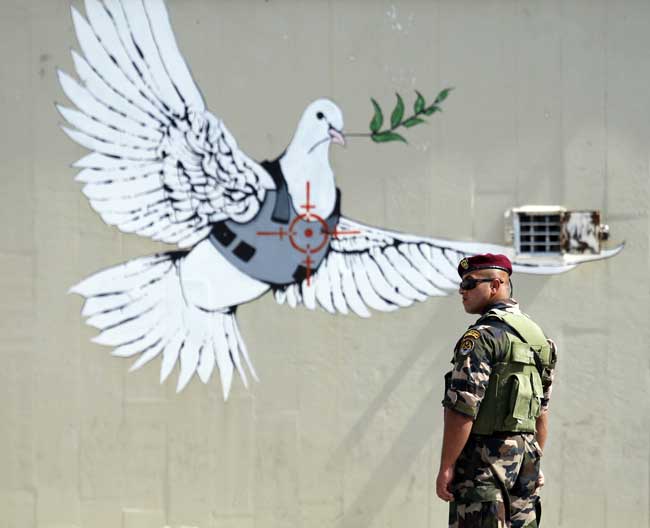 Armored Peace Dove
Banksy
British Guerilla Artist
In this assignment students will:
Plan and create two works of art. This artwork may be completed in the media of their choice. Although mixed media projects are encouraged, student must think of the expressive qualities that different media posses and use it accordingly.
Produce personally relevant works of art that reveal evidence of exploring visual ideas that reflect an understanding of a contemporary social issue. Research on the topic must be thorough and both fact and opinion recorded in the IWB correctly.
Develop and maintain a close relationship between investigation and a purposeful, creative process in studio work.
Investigation Workbooks: (20 pgs.)
Research a contemporary social issue of your choice. The research must be in-depth and correctly cited.
Explore and record your compositional process in 5-10 thumbnail sketches. This process should clearly link your IWB to the resulting studio work.
Record the process for selecting the media best suited to with work for its expressive quality.
Reflect on the use of media and its success or failure in this project.

Studio Work: (2 Works of Art)
Plan and execute two works of art using the media of your choice.

Assessment: Students may show their work for critique and submit their sketchbooks for evaluation.