IB Figure Drawing
(Recommended working time: Three Weeks)
In this assignment students will:
Plan and create a drawing dominated by the human figure
Respond to and analyze critically and contextually the function, meaning, and artistic qualities of past, present, and emerging art, using art vocabulary.
Develop and maintain a close relationship between investigation and a purposeful, creative process in studio work.
Investigation Workbooks: (15 pgs.)
Compare and contrast a culture other than western culture and their use of the human figure in their art with that of human figure in western culture.

Is it primarily religious?
Is it political?
What ideas or ideals might be expressed through differing depictions of the human figure?

Several examples of 1, 5, and 10 minute figure drawings that reflect practice and growth.
Remember to cite your sources!

Studio Work: (1 Drawing)
Figure drawing from a live model that displays accurate proportions and a constructive use of negative space.

Assessment: Students may show their work for critique, write a reflective essay, and submit their sketchbooks for evaluation.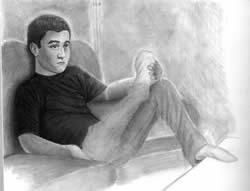 Advanced Drawing and Painting
Student Work